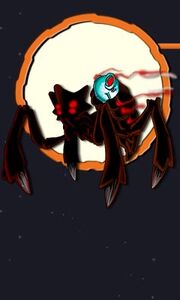 Spiderquin
Character information
Full name
Spiderquin
Gender
Hermaphrodite
Behind the scenes information
The Spiderquin is the largest non-boss Quinkan in the game.They usually terrorize villages and roam along mountain side.
Involvement
Ty sees some in the Dreaming and while in a Gunyip.
Strategy
Drob bombs on it or, if you're a daredevil, shoot it while shuttle looping.
Trivia
The Spiderquin almost looks like the Dark Terraformer from Jak 3 of the Jak and Daxter series developed by NaughtyDog and Ogudomon from the Digimon series.
They are all for dark purposes and possibly all the same size.
See also
External links
Ad blocker interference detected!
Wikia is a free-to-use site that makes money from advertising. We have a modified experience for viewers using ad blockers

Wikia is not accessible if you've made further modifications. Remove the custom ad blocker rule(s) and the page will load as expected.