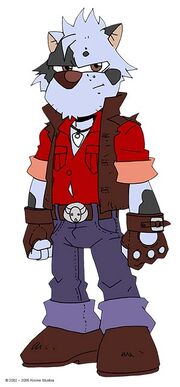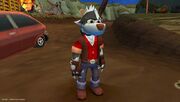 SPECIES:
Blue Heeler 


AGE:
23 years 


HEIGHT:
99 cm 


OCCUPATION:
Truck driver


He only shows up in the Ty2 after beating Fluffy the final time, and shows up more common at the very near end of the game. and only Appearances 3 times in the game. His first appearance was the first level of TY2, he can be seen running with a crowd at the starting point of the level. Red's missions are always timed, so pay close attention to the timer.
DESCRIPTION:
Red has been driving trucks for a bit too long and consequently is one trailer short of a road train. He hasn`t had much luck with his driving (always falling over cliffs) and resents TY for needing to save him.
Ad blocker interference detected!
Wikia is a free-to-use site that makes money from advertising. We have a modified experience for viewers using ad blockers

Wikia is not accessible if you've made further modifications. Remove the custom ad blocker rule(s) and the page will load as expected.