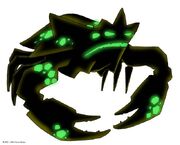 Quincrab
Character information
Full name
Quincrab
Gender
Hermaphrodite
Behind the scenes information

The Quincrab is a surprisingly rare type of Quinkan that only appears in one area in the game.According to the game manual, the quincrab's sole purpose in life is to assimilate sea-life.
Background
Involvement
Strategy
Hit in back or face when it drops it's guard down.
Quotes
Trivia
See also
External links
Ad blocker interference detected!
Wikia is a free-to-use site that makes money from advertising. We have a modified experience for viewers using ad blockers

Wikia is not accessible if you've made further modifications. Remove the custom ad blocker rule(s) and the page will load as expected.