SPECIES:
Parrot


AGE:
66 years 


HEIGHT:
46 cm 


OCCUPATION:
Pirate/shop keeper


MAJOR ROLE IN THE GAME: His first Appearances was in Ty1, the mission "Rex Marks the Spot" only his voice was recorded and replayed in hidden treasure chests with built in speakers. Mostly just clues to point you to his real treasure witch is where you first started at. the final treasure chest will spit out a thunder egg for your effort. Ty3 he's only a shop owner to sell his treasure maps, but your going to want to buy them if you want to find the hidden stuff to complete with 100%

DESCRIPTION:
Parrotbeard is an all rhyming, all riddling pirate machine as seen in Ty1. He`s best known for his treasure, his cart racing and his treasure map shop in ty3.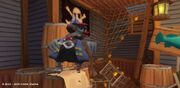 Ad blocker interference detected!
Wikia is a free-to-use site that makes money from advertising. We have a modified experience for viewers using ad blockers

Wikia is not accessible if you've made further modifications. Remove the custom ad blocker rule(s) and the page will load as expected.