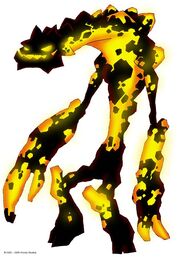 Lavaquin
Character information
Full name
Lavaquin
Gender
Hermaphrodite
Behind the scenes information

The Lavaquin is the only type of Quinkan that can dwell on land and submerged in lava.According to the games manual, it is the offspring of the Magmaquin.
Background
Ty will find these in lava areas or Karlos arenas.
Involvement
Ty finds these in lava areas or Karlos arenas.
Strategy
Hit with Boomerang. Or fight with Bunyip
Quotes
Trivia
These will usually accompany a Magmaquin.
See also
External links
Ad blocker interference detected!
Wikia is a free-to-use site that makes money from advertising. We have a modified experience for viewers using ad blockers

Wikia is not accessible if you've made further modifications. Remove the custom ad blocker rule(s) and the page will load as expected.